Pool, Hot Tub and Fire Pits
Our ocean view pool and hot tub are enjoyed by our guests from late-May through early-October, weather permitting.  Our two fire pits are available evenings throughout the season, weather permitting. 
So that we may give every guest the best possible stay at Sea Chambers, please note that all areas of Sea Chambers and included amenities are for the use of registered guests only.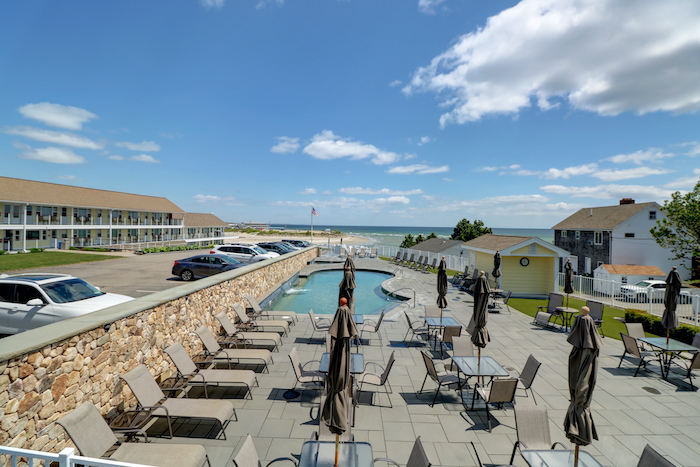 Pool and hot tub information
The pool and hot tub are open from 9:00am to 9:00pm, late-May through early-October, weather permitting.
Pool towels are available at the pool, and we ask that they stay in the pool area.
Our pool is kept at 80ºF/27ºC, and our hot tub is kept at 102ºF/39ºC.
There is no lifeguard on duty. Children must be accompanied by an adult.
Large flotation devices are not permitted, to leave room for all guests to enjoy the pool.
For the safety of all our guests, running and  jumping are not permitted. Please do not climb on the stone wall.
Guests are welcome to bring food and drink to the pool area. Trash cans are provided.
Glass is not permitted within the pool area. Plastic cups are available at the Front Desk.
Our pool area includes many chairs, tables, loungers and umbrellas. Furniture may not be reserved nor blocked off for more than 10 minutes.
Items left at the pool will be brought to our Front Desk by our staff.
Fire pit information
Our fire pits are lit at dusk, weather permitting, and are turned off one half-hour before our Front Desk closes each evening.
Seating is limited and additional seats may not be added. Seats may not be saved for more than 10 minutes.
Cooking, including toasting marshmallows, is not allowed at our fire pits.