Ocean View Pool & Hot Tub

Sea Chambers' unobstructed ocean views and friendly staff have made us a yearly tradition for generations of vacationers.  We are perfectly located near the downtown entrance of Marginal Way and the heart of Ogunquit Village, just a short walk to Ogunquit Beach.  Park your car upon arrival, and leave it for your entire stay.
Sea Chambers offers our guests:
           • Ocean view rooms and seating areas
           • Oceanfront deck and floating dock
           • Seasonal ocean view heated outdoor pool and hot tub
           • Two ocean view fire pits
           • Complimentary continental breakfast
           • Newly remodeled guestrooms, suites and apartments
Please explore our website to learn more.
Thank you to all our guests and employees for a great 2023 season.  Sea Chambers is now closed and will reopen to guests on March 28, 2024. 
We will be temporarily relocating our office this winter and may have a few days of interrupted phone service in early November.  If you are unable to reach us via phone, please email us and we will respond promptly.  Gift certificates may be ordered online or by phone.  Sea Chambers clothing items may be ordered by phone.
2024 online reservations and rates will be available on January 2.  We will mail letters regarding existing reservations in January.  Please contact us at any time to discuss changes or new reservations.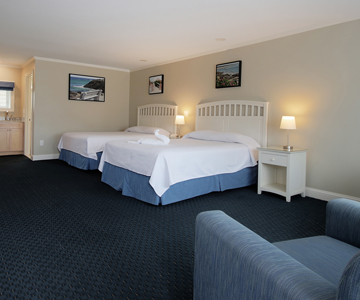 See inside our variety of newly renovated rooms, suites and apartments,
most with ocean view